Article
Taking a different gender perspective, the article centers on young men who are not active in any employment or educational framework. The events of May 2021, it is argued, were expected as policies and programs relevant to the distresses suffered by these youths are lacking or not put in place.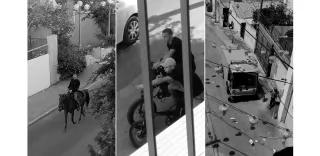 When considering disadvantaged groups within the population of Palestinian citizens of Israel, women are the first group that comes to mind. In general, women in Israel suffer discrimination in various areas, evident in various contexts, such as the labor market and other arenas.
Accumulated data and experience both suggest that Arab women in Israel are even more disadvantaged compared to Jewish women. The fact that a substantial share of Palestinian-Israeli society is conservative, and more patriarchal than Israeli society in general, leads to further exclusion of women and painful over-representation of Arab women among the victims of violence when compared with their numbers relative to the Israeli population.
Yet, in this article we would rather focus on another group within Arab-Palestinian society in Israel, one that suffers from double and triple-faceted distress: as Arabs; as young men suffering from increasing detachment from Arab society as well as from the state; and as residents of mixed Israeli cities. These are men aged 18–24 who are not integrated into any permanent, stable framework of either education or employment, and with respect to whom the acronym NEET (Not in Education, Employment, or Training) applies. While Arab women are experiencing a positive trend regarding their integration into academic institutions and the labor market, the situation among young adult Arabs is different. A study in 2017 found that 37% of Arab young adults aged 18–22 are detached from any continuous framework of education or employment (Mi'ari and Haddad Haj-Yahya, 2017). Such young adults residing in mixed cities, where violence and crime are especially grave and where there is a greater lack of personal security ('Ali, Lewin-Chen and Najami-Yosef, 2021), suffer in particular from heavy distress. The implications of their NEET status was evident during the violent events that took place in the mixed cities last May.
In order to understand the distress in which these youth find themselves, we must examine their background and the social distress from which they suffer. According to National Insurance Institute data from 2018, 45% of families and 58% of children in Arab society live below the official poverty line. Moreover, they live in an environment lacking the most basic feeling of personal security. Since the beginning of 2021 until today, December 2021, more than a hundred citizens, men and women, have been killed under violent and crime-related circumstances. In most cases, the murders have been inflicted with firearms, available to an intolerable degree in Arab society. Of those killed, 34 were aged 30 or below. This fact shows the worrisome representation of youth in particular in violent incidents. The year 2020 ended with 96 victims of violent and criminal circumstances within Arab society – more than any preceding year.  Of them, 21 victims were men and women who resided in mixed cities (22% of all victims, despite the fact that Arab citizens residing in the mixed cities only comprise about 10% of the Arab population as a whole).
Arab citizens' high rate of poverty and lack of feeling of personal security play into the hands of criminal organizations, which exploit their distresses to sell firearms and drugs and are quick to lend sums of money for unrealistic interest rates, with grave consequences for those failing to pay them back. Economic crisis and chaos serve these criminals, because they increase the demand for drugs and weapons, on the one hand, and keep the police overworked beyond its capacities, on the other hand.
Beside the presence of criminal organizations in their lives, the lack of informal educational programs, sports facilities and parks makes it harder for youth to break away from the harsh reality of life and imagine a different future for themselves. During the month of April 2021, we at Abraham Initiatives published a policy research on Education Against Violence programs in the Arab society, which revealed a worrying picture. Arab youth fall victim to physical violence, sexual violence and online violence, carry weapons and consume drugs to a greater extent than their Jewish counterparts. This population also suffers from higher school-dropout rates and, as a direct consequence of the process of its deterioration and detachment, it is finally prosecuted more than its relative share in the population.
Unlike what is commonly thought, distresses in the Arab society in Israel do not skip mixed cities. Moreover, mixed cities entail further, unique challenges. For instance, in all of mixed cities, except for Nof HaGalil, there are socio-economic gaps between the Jewish and Arab populations, with the Arab population distinctly poorer than the Jewish one. These gaps produce tension and frustration. Moreover, in the mixed cities, there is intensive contact between the populations due to their contiguity in residence, education, employment and leisure activities. In periods of tension on national grounds, this intensive contact can escalate into crisis.
On the background of the 1948 war, many assets owned by Arab residents have become "absentee properties" owned by the state. These assets are usually located in the historical parts of the mixed cities, mostly inhabited by Arab residents who live there since 1948 as protected tenants, and not as property owners, and the families are often threatened by evacuation orders. This is exacerbated by the increasing housing crisis of the Arab population in these cities and the lack of any planning regulation for some of the Arab neighborhoods in the mixed cities.
Another characteristic of the mixed cities is the segregated educational system and the lack of any policy of familiarizing Jewish and Arab populations with each other, which jointly lead to alienation and distancing between these two societies. Moreover, in some mixed cities, none of the paid deputy mayors is an Arab, whereby the Arab residents are politically underrepresented, and, as a result, their needs are often being ignored. The lack of appropriate solutions, in its turn, leads to a feeling of lack of belonging and alienation by the Arab residents towards their city of residence.
And, as if all of these challenges were not enough, there is also the lack of personal security: According to a 2020 survey of personal security in mixed cities by Abraham Initiatives and the Samuel Neaman Institute at the Technion, mixed cities' residents, both Jews and Arabs, report lower sense of personal security than their counterparts residing in Arab/Jewish localities.
Government plans with pretensions to solve some of these problems in the Arab localities skim over Arab society in the mixed cities, leaving it, for lack of satisfactory and effective municipal political representation, to fend for itself. Thus, billions of Shekels allocated as part of Government Resolution 922 for the economic development of Arab society in Israel were intended only for Arab localities and did not improve the conditions of mixed cities' Arab residents. These feelings of detachment and despair are exploited by criminal organizations, whose hold is particularly strong in the mixed cities in the center of Israel. They get through to youth and young adults, offering them everything that seems beyond their reach – money, status, power and belonging.
Thus, from his own point of view, an Arab young adult, living in a mixed city, suffers disadvantage both in comparison to Arab women, whose chances of integration are better than his; and compared to the Jewish population in the city, which, in general, is characterized by a higher socio-economic status and a preference in municipal resources.
On this background, the May 2021 riots in the mixed cities seem less perplexing. They did not occur "out of nowhere", but were set up for decades by a discriminatory governmental policy that received a warm welcome in most of the mixed cities. The eruption during the May 2021 events took place on the combustible and fertile substrate of bored and frustrated youth, neglected by state institutions and the municipalities, who found the events as an outlet for their anger, which they ascribed to the need to counteract the steps taken under state approval in Sheikh-Jarah, Jerusalem. Even if the events were surprising in their intensity, the idleness and detachment among youths in Arab society is a long-established and well-known ticking bomb.
The dissipation of the difficult sights of May 2021 in Israel's mixed cities might be misleading. It is important to understand the unique situation of NEET youth and relate to it as one of the underlying  causes of violence and crime across the Arab society and in particular against the mixed cities socio-political background. It necessitates multi-systemic governmental plans to address the core of the phenomenon, as it will not disappear by itself. In the mixed cities, the damage is mostly felt at times of crisis, but the ground never ceases to tremble. By ignoring this population, the next explosion already lurks behind the corner.
* Not in Education, Employment, or Training
Bibliography
Miari, Sami and Haddad Haj-Yahaya, Nasreen. 2017. NEET status among young Arab men in Israel. Jerusalem, Israel Democratic Institute.

'Ali Nohad, Lewin-Chen Ruth and Najami-Yosef Ola. 2021.

Personal Security Survey in the Mixed Cities 2020. Abaraham Initiatives and Samuel Neaman Institute for National Policy Research.

Yonatan Arie. 2021. Overview: School Programs to Eliminate Violence Among Adolescents. Abraham Initiatives