Backgrounder
Unmanned aerial vehicles (UAV) and unmanned aircraft systems (UAS), commonly termed 'drones', have the potential to become some of the most influential and iconic technologies of the 21st century. Combining the capabilities of autonomous flight and advanced methods of data collection, drones are believed to provide an unprecedented tool for achieving more cost-effective, time-efficient, and safer processes. These capabilities - previously a privilege reserved for the military - are now increasingly incorporated into civilian domains, where drones create various applications ranging from surveillance and sensing missions to novel forms of last mile logistics and passenger transportation.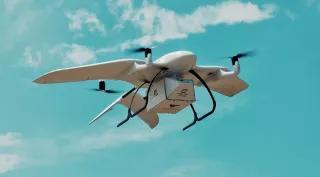 developments mark not just a historical turning point in aviation, but the beginning of a new era in which low level airspace may become the 'third dimension' of transportation.
Alibaba); and manufacturers of drone hardware. The latter include traditional aviation players (e.g. Airbus, Boeing) on one hand; and on the other - start-ups that receive tremendous amounts of financial capital, for instance from the automotive sector, and focus on seeking innovative business and market opportunities.
potential need for physical facilities on the ground, such as vertiports for landing and take-off and drone warehouses.
in most European metropolises), travel time would only be reduced under specific circumstances. For instance, distribution density of vertical take-off and landing hubs (vertiports) must be equal to that of the existing urban railroad stations. Lower density of vertiports may even result in longer door-to-door travel times compared to conventional means of transportation.
To summarize, drone-induced traffic reduction appears to be an intuitive solution to existing problems, yet the extent of actual benefits remains an open question. To assess these, we need a deeper understanding of i) precise substitution potential of various drone applications, and ii) drone-related (long-term) economic and behavioral effects. Future research would have to validate the substitutional effects of different drone-related scenarios, and discuss them in the context of recently reviewed transport planning strategies.
5. Flying high? Final remarks
Drones are expected to become a "game changer technology" for the transportation sector, with the potential to revolutionize logistics processes and passenger transportation. While drones are unlikely to become a mass transit mode, there's a high probability of drone applications flourishing in niche markets, e.g. express delivery of medical items or passenger transfers in certain scenarios.
Nonetheless, we are currently seeing that the potential effects of transportation drones tend to be oversimplified as being wholly beneficial. Hence, substantial scientific qualification is needed in order to better assess the benefits of various drone applications against potential rebound effects.
What's more, there's still a glaring lack of public awareness of the issues at stake, and of public participation in the debate on the subject. This is despite the fact that each single flight will instantly affect the public (as these take place in public space), and despite the historical significance of extending public space towards lower airspace. Instead of initiating an open debate on the use of lower airspace, major economic, political, and regulatory actors either predominantly address public safety concerns, or (secretly) hope to convince the public by demonstrating the technology's benefits once it is implemented. This approach, however, partially ignores multiple issues (noise, privacy, environmental implications) revealed by recent research on technology acceptance.
Once drones become more visible, the use of lower airspace may turn into a hot socio-political issue. Policymakers dealing with the issue must balance various stakeholder interests with overarching social goals (sustainability, justice, equality). A recent study recommended a set of 12 research-based actions that try to achieve this balance, with the aim to provide a framework for socially, economically and ecologically feasible use of transportation drones.
This is only the starting point for initiating a debate with the aim of creating maximum societal acceptance and legitimacy. This should be achieved via a combination of proactive technology assessment and the facilitation of real-world laboratories including open public participation and transparent dissemination of information.
---
The opinions expressed in this text are solely that of the author/s and do not necessarily reflect the views of the Heinrich Böll Stiftung Tel Aviv and/or its partners.