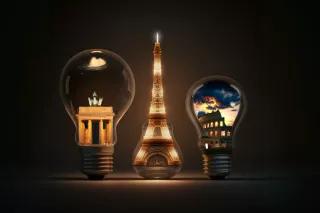 Since the summer of 2021, a resurgence in human activity following the COVID-19 pandemic has coincided with supply chain shortages, inflation, the Russian war in Ukraine, and an unstable international business climate, causing energy prices to soar. The repercussions for households and businesses have been significant. Energy poverty may now affect 3 to 4 times as many families as the pandemic did, particularly those households that experienced severe economic hardship during the pandemic. Beyond these vulnerable households, the dramatic price increase has also eroded the purchasing power of the middle class. Furthermore, numerous businesses face potential liquidity issues. To address these challenges, the European Union and its Member States have implemented targeted measures aimed at mitigating the crisis's impact on both households and businesses.
 
NAVIGATING THE ENERGY CRISIS STORM
Since September 2021, EU Member States and the European Union have introduced measures and solutions to tackle rising end-user energy prices. In October 2021, the European Commission (EC) unveiled a toolbox for Member States to address the immediate effects of price surges and enhance the resilience of energy markets. Key measures proposed by the EC, in compliance with EU competition rules, encompass emergency income support, tax reductions for energy-poor consumers, payment plans, protection against grid disconnections, and assistance for businesses. In addition to these preliminary measures, Ursula von der Leyen, President of the European Commission, has questioned the overall functionality of energy markets.
At the end of 2021, countries such as the UK, France, Belgium, and Spain had already decided to boost existing social tariffs and benefits to protect vulnerable consumers. The expansion of those measures were intended to be limited to the winter, but many have been updated to cover the second half of 2022. For example, in Belgium, the (temporary) extension of the social tariff has been prolonged three times since February 1, 2021.
VAT and tax rebates have also emerged as widespread response measures to the price crisis. In Ireland, a 30% tax rebate on heat, electricity, and broadband expenses was introduced in October 2021. Additionally, VAT on gas and electricity bills was reduced from 13.5% to 9% between May 1st and October 31st, 2022, enabling households to save approximately €32 (electricity) and €11 (gas) on an average bill over these six months. Similarly, Poland reduced VAT on electricity, gas, food, and petrol as part of a second package of measures to alleviate the impact of skyrocketing inflation in January 2022. For six months starting February 1, 2022, VAT on food, gas, and fertilizers dropped to 0%, while VAT on petrol and diesel decreased to 8% (from 23%) and on heating to 5%.
Retail and wholesale price regulation has been considered in various countries, with Spain and Portugal standing out as notable examples. On April 26th, 2022, the European Commission approved an Iberian exception that allowed Spain and Portugal to separate gas prices from electricity prices for the next 12 months. This decision paved the way for a temporary mechanism capping the gas price at an average of €50/MWh. With regulated tariffs, this measure ought to have halved electricity bills for approximately 40% of Spanish and Portuguese consumers. Additionally, some states have implemented specific measures for businesses. In Italy, haulers received a 28% tax credit for diesel purchases in the first quarter of 2022, while energy-intensive firms benefited from a 10% tax credit for natural gas purchased during the same period. Poland has also established financial aid measures to protect public administration, schools, and hospitals from escalating costs.
How have these measures been funded? In some countries, financing was achieved through a tax on the excess profits earned by certain companies that have benefited from the price crisis. For instance, in Greece, power companies have been required to pay 90% of taxes on additional profits generated during the crisis. These tax revenues are then used to fund measures aimed at supporting affected households and businesses. Similarly, in May 2022, Italy introduced a windfall tax on energy companies, ranging from 10% to 25%, to finance initiatives that assist companies and consumers impacted by escalating costs.
 
IS A SWIFT RESOLUTION TO THE CRISIS POSSIBLE?
The energy price crisis highlights two critical points: Europe needs to intensify its efforts to combat energy poverty, and European economies must reduce their dependency on imported fossil fuels. This underscores the urgent need to diversify supply sources and increase self-reliance, particularly by enhancing energy efficiency and utilizing locally produced renewable energies. In May 2022, the European Commission introduced a plan called "REPowerEU" to expedite independence from Russian fossil fuels, bolster energy efficiency, and accelerate the deployment of renewable energy. Some countries have already begun taking action: The UK is working to eliminate the 5% VAT on "energy-saving materials" such as insulation, solar panels, and heat pumps, while Italy has extended its Superbonus program, which offers a 110% tax credit for energy efficiency improvements in buildings.
THE URGENCY OF ENHANCING THE EU'S ENERGY SYSTEM RESILIENCE
While these measures are crucial for supporting the economy and household budgets, they raise concerns about the resilience of economic systems in the face of external shocks and highlight the importance of financing the energy transition using the most suitable tools. Moreover, there is apprehension that this crisis could hinder the climate agenda and the carbon neutrality goals set by the Paris Agreement. To avoid this, proper planning is essential: Implementing the four pillars of the energy transition – known as the 4 Ds (decarbonization, decentralization, digitalization, and democratization) – which have long been advocated by experts in the field, is increasingly critical to harmonize climate, social justice, and peace objectives.
---
The opinions expressed in this text are solely that of the author/s and do not necessarily reflect the views of hbs Tel Aviv and/or its partners.